This year at Triumph Modular we saw many clients customizing temporary space like never before. Seemingly unsatisfied with off the shelf temporary modular, many prospects and clients sought out higher design, custom interiors and exteriors. The demand for inspired design of temporary space that was affordable yet didn't "look like a trailer" was in high demand. We thrive on the practice of making temporary buildings look and feel permanent, so that is what we did. It was not without its challenges however.
Repurposing Existing Buildings
The demand on design and engineering at the pre-construction stages of a repurposing project is substantial. The new codes – beginning with the 2009 IBC changes in insulation and electrical requirements in particular – make repurposing existing and older structures for a new use a much larger challenge than simply renting a building the second time around with the same use group, occupancy and interior layout. Insulation and air barrier regulations require the use of spray insulation. This proves to be more costly in existing structure given the cavities are not large enough to achieve the R values with traditional fiberglass batt insulation.
Construction Trailers and Mobile Office Space
We have done more schematic design and design development with our clients for relatively short term space. I think it's safe to say that a trend in 2011 is that people want a 'nicer' space, even if it's for a short term stay – and they are willing to pay a premium so that their space doesn't look and feel like a "trailer". Construction trailers still have their place, and we are proud of our equipment rental division as they have endeavored to provide a clean and affordable solution for our construction clients. We will continue to make improvements to the overall "fleet" of existing mobile offices to provide a nicer space both on the interior and exterior.

Green and Affordable Classroom Space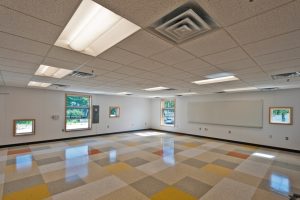 Temporary classroom space will continue to be better and healthier than prior "portable modular classrooms", beyond what the codes require. In the case of our inventory of school space, the modular classrooms of today can be among the nicest and greenest learning environments on campus. We are forging ahead with improvements in design and working very hard to make classroom space both green and affordable, whether a school needs a permanent alternative to conventional construction, or looking for swing space that surpasses the old tired "trailers".
Another year full of innovation and creation at Triumph Modular is in the books!