At Triumph Modular, we pride ourselves in creating lean buildings to deliver maximum value to the customer. But, what are lean principles, and how can lean-constructed buildings help you save time and money? Lean starts with value, in the eye of the customer. It is a systematic method to reduce waste in manufacturing and construction, without sacrificing productivity. When Triumph uses lean construction principles, we deliver buildings with the specifications you want, in the time that you need it, and in prices that you can afford.
Time and Cost Efficiency
In 2017, one of our most challenging projects was constructing classroom additions to all four elementary schools in Chelmsford, MA. As the client wanted the buildings ready for occupancy by September 2017, we built all four simultaneously. To achieve this ambitious deadline, we started working on this project before summer vacation began.
Lean principles helped us meet the deadline because they forced us to cut all of the time-inefficiencies. Thus, we reduced lead times at all possible parts of the process.
Customization
From December 2017 to June 2018, we created a 32,000 sq ft, 41 module science center for Wellesley College. How did we achieve such a large scale building in only 6 months? We used lean thinking, and lean processes. Lean allows us to be flexible: we can change our plans if the owner changes their minds. In Wellesley's case, they originally did not want laboratories but later decided they did want labs. In the end, we installed laboratories that met guidelines for Lab Biosafety Level 2.
Quality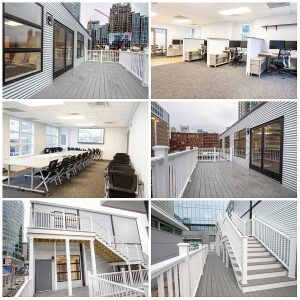 Lean helps us achieve higher quality in our work. A traditional construction office consists of some simple mobile office trailers. However, our client WS Development wanted a state-of-the-art construction field office. We knew we could design and build a world-class office building on a fast schedule. Consisting of six modules, this two-story office has a row of three modules on the ground. On top sits another row of three modules. It has 2 conference rooms, an open area, 4 bathrooms, 2 kitchens, 4 offices, and workstations.