For many years, modular construction has struggled with a
perception problem
.  I'm happy to report there's growing awareness of the benefits of modular construction and it's gaining momentum.
Our industry trade group, the
Modular Building Institute
along with
Sage Policy Group
, track permanent modular construction and their data show the value of permanent modular construction projects grew from $3.8 billion to $6 billion between 2014 to 2016.  That's 58% growth over three years and is fantastic news.  Here's a table showing the data from their research:
While this is great news, there's still a lot of room for growth. As the table shows, $6 billion is only 3.2% of the overall construction.  There is good reason to be optimistic that modular construction will represent an even larger percentage of all construction in the years ahead.
Here's why modular is gaining momentum:
Modular is being recognized as a process.
This resonates with people who've been exposed to technology and understand workflow and assembling multiple components to build more efficiently.  On many occasions, we've shown the parallels between modular and software development.  This is one of the reasons that innovative companies such as
Google choose modular
as a construction method.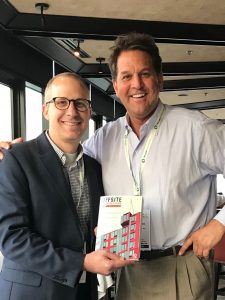 There is a shortage of skilled labor.
  Moving much of the construction of buildings off-site enables developers to take advantage of different labor pools and a more efficient environment for them to work within.  Creating components of buildings — the modules — within a factory is like fixing a bike in a bike shop versus out on the side of the road. The availability of specialized tools and the right supply of materials makes it a better, safer, more efficient work environment for skilled laborers. When
we interviewed Ryan Smith
, Director, and Professor, School of Design + Construction at Washington State University, he noted that "there is a dearth of labor across the construction market, and therefore developers are looking for expedited methods to deliver on their projects."
Time is money.  Of course, this is true for every business, but in construction the ability to "open for business" months earlier translates to significantly more revenue from rent or purchases.  Using the modular process typically accelerates the completion by several months.
Disruption is costly.  Construction is messy. There's no way around that fact.  Trucks, crews, excavation, and often rerouting of traffic cause disruption to people in the area.  This is an annoyance and costs add to the cost.  With modular, there is much less on-site work and therefore less disruption.
Major companies are embracing modular. 
Marriott expanded its use of modular to 13% of their new building projects.  Karim Khalifa, Marriott International's senior vice president of global design strategies was quoted in
Commercial Property Executive
describing their commitment to modular construction:
"We want to start a movement to change the industry and feel the modular process will be a game changer for our valued development partners" 

Karim Khalifa, Senior Vice President, Marriott International.
With all of these factors helping to increase the awareness and use of modular construction, we're thrilled to be a key participant in a growing industry.  Our experience with hundreds of modular projects and commitment to "redefining modular" is part of a major trend.