Introducing the "Triumph Modular Makerspace"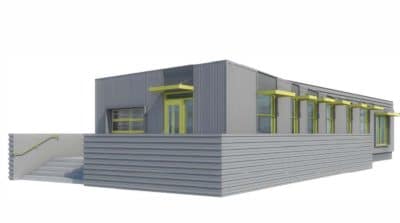 The Movable Modular Makerspace can be delivered, set up, and ready to support STEM programs within a matter of weeks. The Modular Makerspace is predesigned, pre-engineered, and pre-costed to provide movable workspaces, instruction zones, shelving for equipment, and storage typical of a state-of-the-art "maker" environment. Write-on walls, LED lighting, plenty of natural light, durable floor, and a garage door to make it easy to roll supplies in and out.   Likely to be configured to meet your specific needs, it gives you a huge head start to gain price and confidence to procure added modern space that you've needed for a long time but there seems like so many things standing in the way, like
high-cost, the difficulty of procurement, design, and construction.
What makes a Makerspace?
On one level it's a hard question to answer because a "maker" activity can range from robotics to sewing to 3D printing.  On another level, it's fairly straightforward: a Makerspace needs to be flexible enough to accommodate a wide range of project-based learning programs. The Modular Makerspace does that.
Test & Refine Learning.  Determine What Works Best for Your School
The mantra for technology is test, release, and refine. The same approach now makes sense for STEM-related education programs.
Before investing six or seven figures in a new building or renovations, it's important to answer some key questions:
What types of programs leverage the passions and interests of the faculty?
What resonates with the students?
What's appropriate for each grade level?
The Triumph Modular Makerspace enables your school to move forward with new STEM programs using a try-before-you-buy philosophy.
Customize it
If you need a different layout or space for specialized equipment, we'll be happy to work with you.
ReDefining Modular ®  We take seriously our motto of "redefining modular" and we're excited to offer this new type of facility to help teach the skills required for 21st-century careers.