Triumph has adopted the Greenstaxx digital library of pre-engineered housing modules. Together with our architect and modular factory partners, our housing system is the fullest expression of pre-fab. It captures the most efficient way to build multiunit residential housing.

We take a team-oriented integration strategy that includes architects and modular manufacturers. Thus, we can provide owners with lower costs, improved quality, and reduced construction time. The detailed planning and specs owners typically associate with Building Information Modeling or "BIM," are delivered using the GreenStaxx housing system. This solution includes the complexity of the mechanical, electrical, plumbing, and other interconnections within a building. The BIM process builds on the work that earned the firm awards from the Urban Land Institute and Multifamily Housing Executive.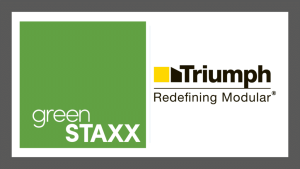 Learn more about our partnership with GreenStaxx.  With an extensive library of multi-unit housing designs, GreenStaxx's software streamlines the process of planning and setting an accurate budget for residential modular projects.