Boston's Seaport District is currently undergoing massive development of retail, office space, residential, and hotels. At the heart of this development, the effort is WS Development of Boston. Already, WS owns over 7.6 million square feet in the district and has brought retailers like lululemon to the Boston Seaport. To say they are a huge contributor to the incredible transformation of the city of Boston is an understatement. Currently, WS is building a 33-story building, the future home of Amazon Boston as well as more ground-level retail. The new WS Offices are at the heart of its construction and development. In addition to WS Development, Turner Construction (long term strategic building partner) will also work there.
WS chose Triumph Modular knowing that we could design and build a state of the art office building on a fast schedule. Located in the center of this bustling district, it sits on a very small site with restricted access.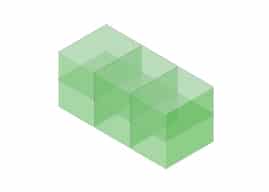 Consisting of six 60' modules, this two-story office has a row of three modules on the ground. On top sits another row of three modules. On floor 1, we have a conference room, a big open area, 2 bathrooms, a kitchen, and 4 offices. Floor 2 features a conference room, work stations, 2 huddle rooms, 2 bathrooms, and a kitchen. In total, the square footage is 4,320.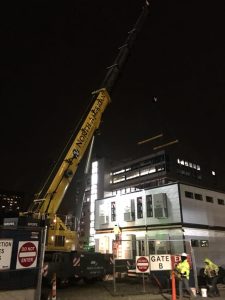 Interested in learning about our temporary modular buildings? Please click the button below for more information.