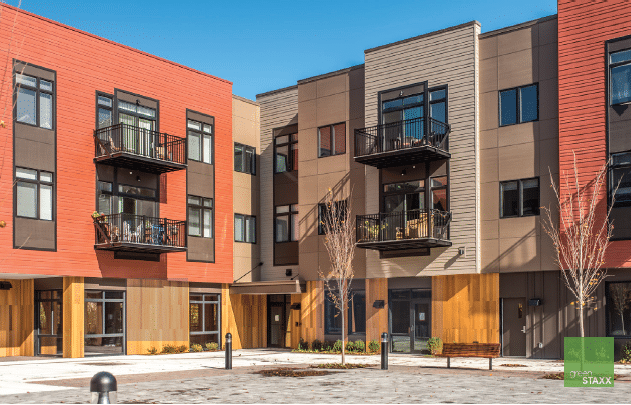 Why Modular for Student Housing?
Student housing design and construction are evolving rapidly, driven by new approaches and technologies that can deliver on the needs of schools and education centers throughout the country.
Modular housing provides a great alternative to traditional construction—particularly for student housing. Let's look at the benefits:
Lower site impact – For projects taking place on campus, site impact is important—schools need to maintain a positive learning environment, and modular construction impacts the site far less than traditional construction methods.
Cost predictability – Keeping design changes to a minimum allows modular student housing projects to maintain predictable costs and keep them as low as possible.
Speed to occupancy – The needs of schools are changing quickly and consistently—no construction method offers a quicker speed to occupancy than modular, allowing students to occupy housing in record time.
Aesthetics rivaling traditional construction – Especially when it comes to building additions, aesthetics are important—you want your new buildings to match the older look. Modular construction can provide aesthetically pleasing and on-theme buildings that rival (and even surpass) traditional construction methods.
Looking to learn more about permanent modular? Check out our page on "Why Permanent Modular."