Advantages of Permanent Modular Construction:
Why Permanent Modular?
TRADITIONAL CONSTRUCTION VS. MODULAR CONSTRUCTION
The construction industry is ripe for innovation. Prefabricated buildings, which are built in an efficient factory environment, offer a solution: Take more labor off-site and bring it into a controlled factory setting.
The traditional construction model is inefficient. Owners are losing money on projects, architects and engineers are not seeing improved workmanship, and contractors bear great financial risk in the process. As a result, the construction industry's lack of productivity and inefficiencies are costly to all stakeholders.
Modular construction presents a logical alternative to site-built methods. It not only reduces inefficiencies but offers other valuable benefits.
Modular Construction Advantages
Speed to Occupancy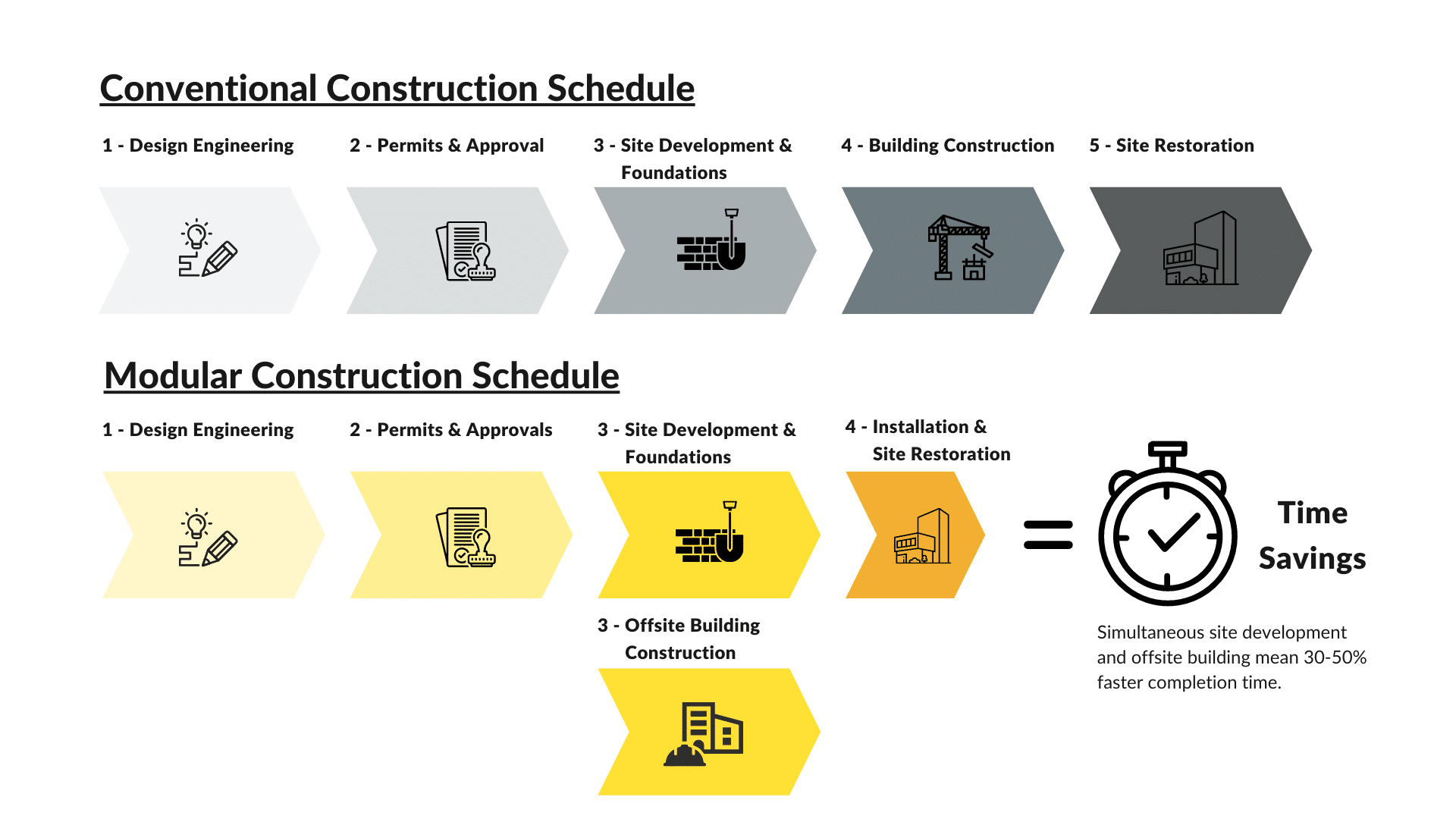 Because permanent modular construction takes place primarily off-site, the choice to go with modular drastically reduces the time to occupancy for building owners. Site development and construction can take place simultaneously to shorten the build time and allow you to occupy your building in record time.
Cost Predictability
Permanent modular construction building practices allow for greater cost predictability—so long as design changes are kept to a minimum.
Since modular buildings are constructed in a controlled environment, material loss is far less common. Standardized building practices with minimal design changes allow you to better adhere to your budget and avoid any unwelcome cost surprises.
Design Creativity
Long gone are the days when modular was viewed as a novelty—permanent modular offers highly creative and aesthetically pleasing designs that can seamlessly blend with existing buildings. Triumph Modular partners with architects and our clients to create award-winning, modern buildings with permanent modular construction.
Built in a Controlled Environment
Permanent modular buildings are manufactured off-site or away from the project site in a controlled factory environment. This process helps standardize the building process, leading to a high-quality building with materials that aren't exposed to the elements.
Green Design Practices
The efficient use of labor and materials in the permanent modular process makes it greener than most conventionally built structures. Green modular design offers several sustainability benefits, including:
Fewer material deliveries and transportation
Lower impact on the job site
Reduction in waste and pollutants
Fewer material losses
Increased worker safety