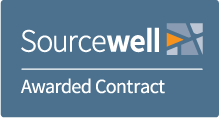 To help simplify procurement and illustrate our commitment to Sourcewell contract customers, we offer a variety of mobile offices and modular solutions for lease through our Sourcewell Awarded Contract:
Sourcewell Contract: 120822-TRM
RFP 120822 – Relocatable Building and Storage Solutions with Related Services
Please visit our landing page on the Sourcewell website.
Why Choose a Cooperative Partnership?
A cooperative partnership saves you time, reduces costs, and improves
project efficiencies.
Customer Value:
Working with a trusted partner as your single-source modular provider increases efficiencies, saving time and money. An experienced and proven sales, service, and administrative team guarantees you the best solutions that suit your needs.
Why choose Triumph Modular for your Relocatable Building and Storage Solutions?
With more than 40 years of experience, Triumph Modular has worked in a multitude of industries delivering quality products and keeping customer relationships at the heart of our operations.
We serve a wide spectrum of industries with space expansion requirements: Educational, Government, Construction, Office/Administrative, Healthcare, Energy, Steel, and Utilities.
Our solutions include storage containers, mobile offices, swing spaces, modular offices, laboratories, temporary modular buildings, classrooms, and permanent modular buildings.
We offer lease and sale options for our products and design-build and turn-key project management services.
We also offer a full complement of value-added furniture solutions, providing Sourcewell participating entities with a single source provider for their modular space requirements.
We have the newest fleet in the industry, allowing us to deliver our product faster and more efficiently than other modular providers.
We consistently review our sustainability practices through a review of our waste management and features that we use in our modular units.
Triumph Modular has received 17 Awards of Distinction from the Modular Building Institute over the past ten years.
Our Lead Cooperative Manager has 21 years of Cooperative Purchasing experience at the State and GSA levels.
We utilize a network of sub-contractors to deliver and install, and our Project Managers and Sales Personnel can travel from site to site or state to state.
Triumph Modular is proactively recruiting Women or Minority Business Entities, Small Business Entities, and veteran-owned business entities.
Triumph Modular is a leader in the Northeast and Midwest Regions for leasing mobile offices, modular buildings, and storage containers. As an innovator in the modular industry, we provide high-quality temporary and permanent buildings equipped with energy-efficient elements and options to make your space as turnkey as possible.