Triumph Modular's New Greater Pittsburgh Branch
Six months ago, Triumph Modular opened a branch in the Greater Pittsburgh Region, in response to a growing need for an alternative mobile office supplier in Pennsylvania, Ohio, and West Virginia. The new branch is part of Triumph Modular's overall expansion plan. Since our arrival, Branch Selling Manager, Matt Dickinson, has received a positive response from regional industries with the introduction of Triumph Modular's fleet to the area. 
About the branch
Matt brings a high level of expertise in both modular and traditional construction with a deep understanding of the Pennsylvania, West Virginia, and Ohio landscapes. In his career, he has overseen larger-scale projects and complex modular installations. Matt is committed to building the branch on a foundation of trust and communication with all customers who choose to lease or purchase a mobile office or modular building with Triumph Modular. 
The new-from-factory fleet with a clean gray-on-gray color scheme is getting our customers' attention when their mobile office is delivered. They also appreciate the bright interiors, the above-standard LED lighting, motion sensor light switches, and USB port outlets.
---
---
Industries we're serving 
The branch is seeing a wide variety of industries and businesses alike reaching out for information on our modular offices. For companies searching for swing space, construction trailers, and custom permanent modular installations, Triumph Modular has been able to deliver. 
The gas and oil industries are busy working on pipeline construction. Triumph Modular has provided several units as office space while these projects are underway.
One specific steel industry customer used a double wide to upgrade from an outdated 12' x 60' trailer. Their new building included offices, a breakroom, a locker room, restrooms, and showers, which are all major improvements for their team.  
In addition to commercial use, residential construction is not slowing down in this region of the United States. Residential and 55+ community developments find mobile offices a perfect solution for sales centers and/or project management offices.
The stress on the healthcare system hasn't let up since the start of the pandemic. The necessity for more space exists for small medical practices and hospitals. Modular offices provide valuable swing space for waiting rooms and testing centers.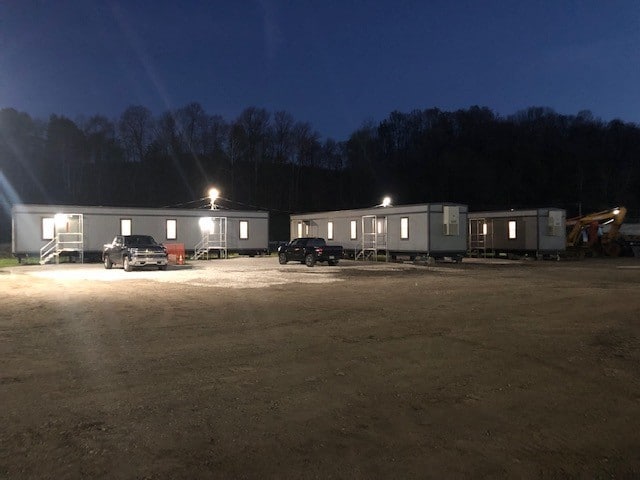 Our future
The future of our Pittsburgh branch is bright and on track to becoming the premier mobile office provider. Triumph Modular's goal is to go beyond temporary projects to offering specialized permanent installations (similar to what we have accomplished in New England). Triumph Modular will continue to provide our customers the opportunity to purchase customized modular buildings, from smaller mobile offices to a larger scale building complex. 
For more information, please contact Matt Dickinson at: mdickinson@triumphmodular.com or 412-407-5866
Triumph Modular Pittsburgh Branch:
132 A Westgate Drive
Beaver Falls, PA 15010