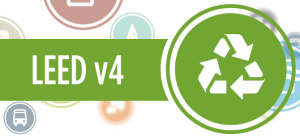 In the proposed LEED Version 4, currently open for public comment, the Materials and Resources section undergoes some significant changes. I'd like to analyze a few of these changes with particular attention to commercial projects using a high degree of modular or factory-built components and buildings.
Construction and Demolition Debris Management Planning is a new Prerequisite for the modular building process in many of the LEED V4 rating systems. It includes having a management plan in place and achieving a minimum 20% diversion of the aggregate waste stream. LEED teams still quantify the subject waste stream materials by weight or by volume, but must also identify a number of target waste materials to be tracked. In almost all cases modular construction can be counted on to decrease the overall amount of construction site debris compared to conventional construction.

The proposed LEED V4 Materials and Resources Credit: Construction and Demolition Debris Management will reward one or two points respectively for diverting 50% or 75% of the total construction activity-related waste stream from landfills, as is currently the case.  In addition, for the first time, LEED will formalize a third compliance path based on diverting a minimum of 2.5 pounds of construction waste per square foot of project area. Because this number is calculated at the construction site it should ensure any LEED project using modular construction or a high percentage of prefabricated components will likely achieve the LEED points associated with this Credit path option.
Anyone who belongs to a member organization of the USGBC is eligible to participate in the LEED V4 public comment process. Just go to new.usgbc.org, log on to the LEED V4 public comment link and make your voices heard!  Readers of this Blog are welcome to submit questions regarding the proposed LEED V4 rating systems and how modular building may be evaluated within LEED.  We hope you do!