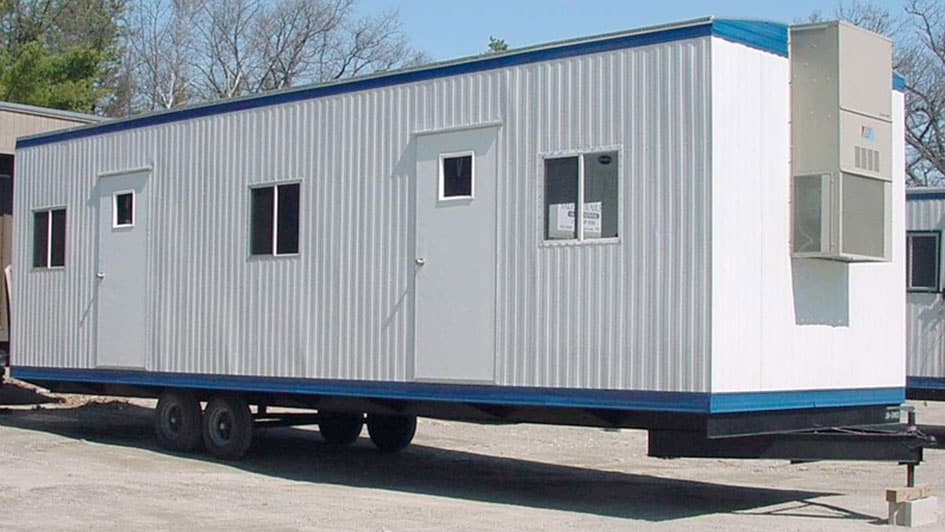 10′ x 36′ Mobile Office Trailer – 320 Square Feet of Office Space
Portable office trailers are an effective solution for a sales team requiring extra workspace or a project manager needing a fleet of mobile offices quickly on site.
Populate your job site with 10′ × 36′ construction trailers offering 320 square feet of office space. All sizes are constructed with a steel door, vinyl-sided walls and windows, and an insulated rubber roof.
Suggested Uses:
Triumph's construction office trailers are capable of meeting the ever-changing needs of construction sites. Some specific uses include:
Construction Manager's Office –

Project managers on-site require a comfortable, quiet space to effectively see tasks through to completion. Triumph's construction office trailers offer high-quality building materials designed to provide the most comfortable environment for project managers to get the job done.
Break Rooms –

Construction workers and tradesmen also need an environment to wind down and take a break. Thankfully, our construction office trailers are the perfect solution for breaks and lunchtimes. 
High-quality Storage –

Certain construction and trade materials are too sensitive and valuable to leave around, waiting to be lost or damaged. Using Triumph's construction office trailers, you can better organize these vital materials and avoid any potential loss or damages. 
These are a few specific examples of use cases for our construction office trailers. The reality is that their flexibility means that they can be used any way you'd like in order to suit your needs.
Our mobile office trailers feature:
DIMENSIONS
Length: 36' Long, including hitch
Width: 10' Wide
EXTERIOR FINISH
INTERIOR FINISH
Vinyl-covered paneling
Vinyl tile floor
Gypsum or suspended ceiling
ELECTRIC
110-208 volt single phase 60 amp service
HEATING/COOLING
WINDOWS/DOORS
Horizontal slider windows
Doors with standard locks

Vinyl windows/aluminum
OTHER (Optional)
Private office(s)
Optional restroom
Door, window, and partition locations may vary depending on the manufacturer.