Public Beachfront Construction
Public Use
On scenic beachfront public land in Hingham, Massachusetts, Triumph constructed this elegant public building using 5 modules. The resulting building for the citizens of Hingham includes a multi-use 3,085 sq feet interior with a spacious exterior deck.
Function and Elegance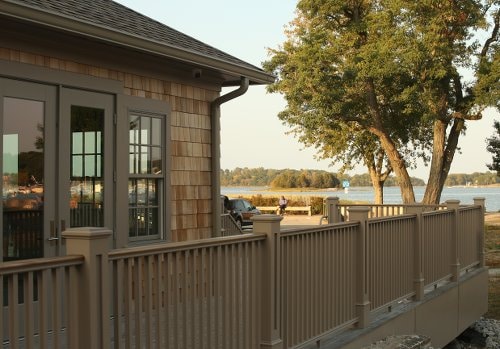 Integrated into the Hingham shoreline, the building includes community areas, bathrooms, a private commercial kitchen, and offices.
The interior features wainscoting and durable LVT tile flooring to match interior wood. Outside features an easily accessible, spacious deck, and cedar shakes.
Construction
Built with Strekalovsky Architecture this project complies with historical standards and floodplain requirements. The Hingham historical commission reviewed the project and the beachfront location required construction on helical piers to address floodplain conditions.