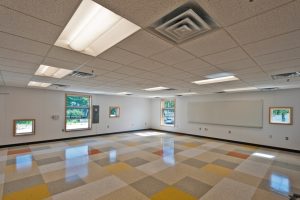 Having been in the modular classroom business for over 25 years, we're often asked about portable classroom cost so we wanted to provide a direct answer. As you probably know, each site is unique so please use this as general guidance only and please inquire about your specific project:
Having a code compliant beautiful modular classroom delivered, installed, leased and removed will likely cost in the rage of $95,000 dollars for one year of use.
It's important to note that the bulk of the cost is in the permitting, installation and hook up of utilities.   The lease rate could be $30,000 per year.   The installation could cost about $45,000, and the removal about $20,000 (if it's removed).  Please note these figures are for a nice classroom that parents and teachers will be happy with during the time period that they're using it.
Here's even more detail on how this cost breaks down on a per-square foot basis: 
Assuming a two-piece modular building of either 1500 or 1700 square feet in size that equates to 1500 ft2 x $20 dollars per foot or $30,000 for the annual rent.  1500 ft2 x $35 per foot is a bit over $50,000 installation, and 1500 x $15 per foot for the removal is a bit over $20,000.   This square footage calculation can be used to approximate the cost for any square footage, but as the building gets larger the estimate can get skewed and you should consult one of our representatives.
What if I needed 4 or 6 or 8 modular classrooms for a few years – what would this cost?
Here
's an example using square footage for an estimate for 4 classrooms of 1000 ft2 each (4000 square foot building space would include bathrooms, corridors, and closet spaces).  Take the square footage of 4000 and multiply it times $15-20 per square foot – think of the higher end of this scale is for the nicest of units.  Multiply the total square footage by the cost per foot to get a budget for the annual cost of rent only:   so, that's $20 x 4000 sf =  $80,000 in rent.   For installation services use $33 per foot ($33 x 4000 sf = $132,000). For removal use $15 per foot. ($15 x 4000 sf = $60,000) paid upon removal.  Total cost for first year use for 4000 square feet, 4 classrooms, and leftover spaces  =  $272,000. Please note the $20 per foot per year for the rent is for a high-end building.  Also, costs of installation and removal depend heavily on a number of factors to be discussed at a visit to your site.  And finally, the shorter the lease, the higher the per foot rate.
How long does it take to get a portable or modular classroom if I needed one?
If you can use a stock unit without modification it could take as little as 90 days from the time you decide to use our company to get the unit operational.  The schedule typically depends much more upon permitting with the city or town and checking the sufficiency of utility services.  The actual site preparation and installation of modular buildings are fast.  If permitting is handled concurrently 90 days is possible and it also depends on how large the building is.  Speed to occupancy also depends greatly on how you procure the modular classrooms. Design – Bid – Build, with multiple bids and little collaborative planning geared toward the lowest cost will result in a much longer schedule. A collaborative choice of partners can make a project go very fast and efficiently.
We provide a variety of other budgeting resources including broad budgeting for leased buildings and an overview of Cost Considerations for permanent modular construction.  This video also provides some examples of per-square-foot costs and factors to consider based on projects that Triumph has worked on in the past.