30% of households in 2020 had either unaffordable rent or mortgage payments—in other words, the payments were more than 30% of monthly household income.
Unfortunately, this is the reality that people live in worldwide. Rent and mortgage payments are through the roof, and more affordable housing is crucial in 2022 and beyond.
With a long list of benefits, it's no surprise that modular construction continues to be used worldwide by governments, cities, and organizations for affordable housing projects.
We'll also show you four examples of modular affordable housing projects that rival and surpass traditional construction methods.
What Benefits Does Modular Construction Offer For Affordable Housing Projects?
Modular construction is the future of affordable housing because it offers several benefits over traditional construction methods.
Here are the four most significant benefits of modular construction for affordable housing projects.
Speed to Occupancy
No matter the industry, modular construction has always been the best choice for quick turnaround times.
With modular construction, cities, governments, and organizations can deliver on affordable housing promises in record time.
The modular construction process allows for quicker turnaround times—most of the construction takes place off-site in a controlled factory environment. Compare this to traditional construction methods, where the entire process takes place on-site, delays are common, and inclement weather can halt the construction process entirely.
Long story short: Modular affordable housing helps governments meet tight deadlines and addresses housing issues quicker.
Cost Predictability
When discussing providing affordable housing, predictable costs are important.
With traditional construction, costs can vary immensely from project to project. Initial predictions for costs can also end up being way off base once the project is underway. Several factors cause this, including:
Material damages
Mid-project change orders
Weather delays
Inadequate planning
Modular may not always be the least expensive option for construction, but if design changes are kept to a minimum, it does offer far better cost predictability for affordable housing projects. This can also help organizations justify lower rent rates when they can keep costs within budget.
Waste Reduction
Traditional construction sites produce an incredible amount of waste—by 2025, annual construction waste is expected to reach 2.2 billion tons worldwide.
Although many construction companies attempt to reduce their waste contributions, the problem continues to worsen.
Waste at construction sites comes from a few different sources. For starters, the on-site machines and equipment produce excessive carbon emissions while in use and during transportation. In fact, Triumph Modular's CEO, Joseph Vecchiolla, recently participated in a panel discussion at an event called ChileMass, where he noted that the construction industry is responsible for 38% of all greenhouse gas emissions.
Traditional construction sites also produce significant material waste—especially without a clear material usage and re-usage plan. Factors such as material damage and errors in building design cause this waste to pile up.
Creating affordable housing projects that minimize waste is best done using modular construction methods. A controlled factory environment minimizes material waste and promotes material re-usage in future housing and other modular projects.
For greener affordable housing projects, modular construction is leading the way into the future.
Innovative Designs
It's been years since modular was thought of as an inferior alternative to traditional construction. Modern modular construction can provide aesthetically pleasing buildings that rival and surpass the look (and quality) of their traditionally constructed counterparts.
In fact, many modular buildings look identical to traditional ones—technology and designs have come a long way over the past decade!
Although many modular affordable housing projects are built to mimic traditional construction, we've also seen some housing projects that go in an entirely new and innovative direction. For example, our parent company, Tecno Fast, has the Tiny Cabin: An example of the "tiny house movement" that provides an innovative way for people to simplify their lives and reduce expenses.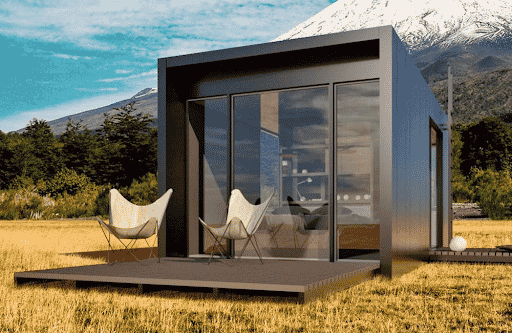 Examples of Affordable Modular Housing Projects
The result of a partnership between Triumph Modular, LexHAB, and designer Colin Smith, "Farmview", is a collection of six affordable housing units within two beautiful buildings adjacent to farmland in Lexington. Colin landed on modular due to budget constraints and a desire to limit site disruption of the nearby farm.
Both buildings are colonial-style structures designed to blend into the existing architecture and the deeply rooted rural and agricultural community. Nearly indistinguishable from traditional construction, this modular affordable housing project completely exceeded all expectations and continues to make important contributions to the Lexington community.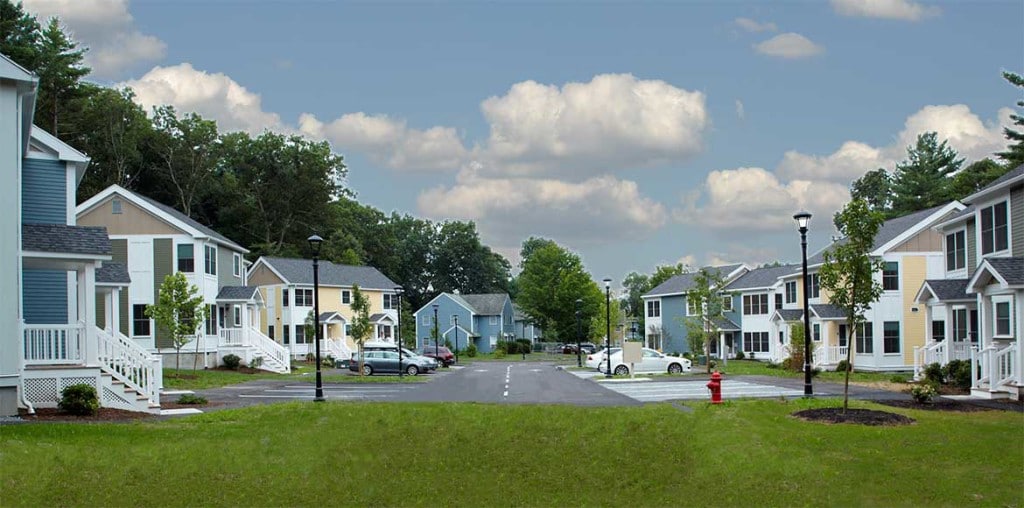 Modular construction for affordable housing isn't a brand-new concept. Back in 2013, Triumph Modular helped bring Acton's project to life: Six two-story buildings with 12 affordable housing units for the Housing Authority.
The project had goals to meet certain sustainability requirements and achieve the LEED for Homes Silver Certification. Instead, the project smashed all expectations and reached a LEED Gold Certification—proving that green modular construction can remain affordable. The buildings also took durability into account, with material finishes that promote longevity and ease of maintenance.
The project broke ground in September 2012 and was finished by July 2013.
Countries outside of the US are taking advantage of modular for affordable housing—just look at Toronto, Canada. NRB Modular Solutions was tasked with designing and installing two affordable housing complexes at two different sites in Toronto. Both buildings feature 100 single occupancy suites and include some great amenities, such as Individual climate control, self-contained bathrooms, kitchens, and private living space.
Modular was chosen due to the quick turnaround time—NRB Modular Solutions was up against the clock to meet the immediate need for affordable housing units in the area. The project took just five months from start to finish.
New York City is an area suffering from low availability of rental units combined with sky-high rent prices. Because of this predicament, a staggering number of families are unable to find a suitable home that they can afford.
To combat homelessness and help families in need, FullStack Modular was called upon to create modular, affordable housing units on Grant Avenue in Brooklyn. Designed by THINK! Architecture & Design, the 176 units feature all sorts of different configurations—studio, one, two, three, and four-bedroom units are available. The choice to use modular construction was crucial for the project's sustainability goals—they implemented energy-efficient systems, renewable materials, and sustainable landscaping to meet Enterprise Green Community standards.
Learn More About Modular Affordable Housing Projects From Triumph Modular
With over four decades of experience, we've accumulated a wealth of knowledge on modular construction used for affordable housing.
For more information, check out our modular housing page. There, you'll find more information on the advantages of modular, student housing, temporary housing, and more.