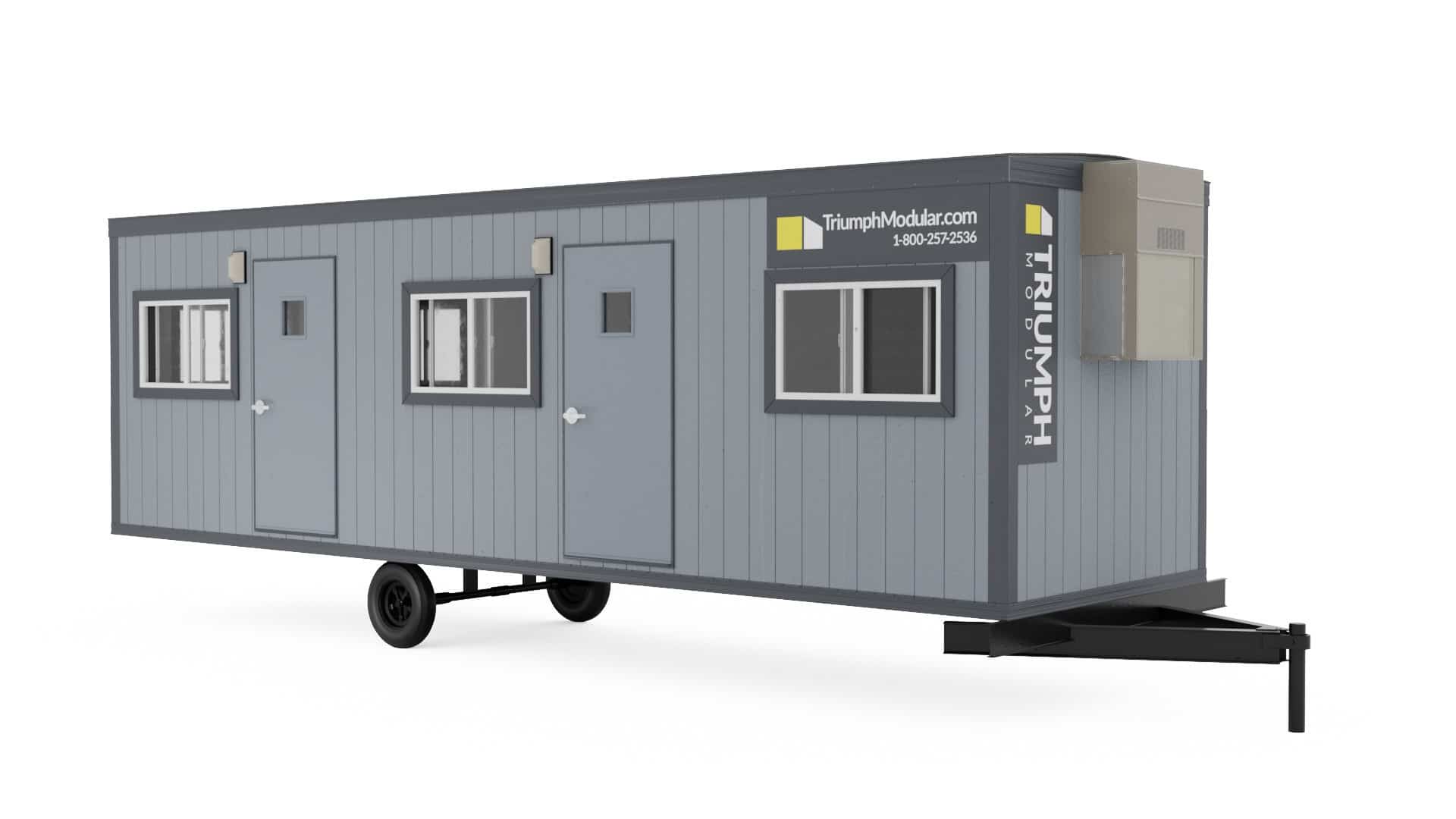 Mobile Office Trailers for Sale or Rent
Having the right space for your business can make all the difference. From the moment you call Triumph Modular, you can rest assured you are in good hands. We will help you choose the mobile office trailer that meets your needs and keeps you up and running.
We offer multiple sizes and configurations of mobile offices for lease. Our sales staff are also available to help you configure your custom mobile office for purchase.
Our Mobile Office Trailers Feature:
Temporary, portable solutions for immediate space needs
Prompt delivery and professional installation
Triumph works with the best manufacturers to design the latest in modular office space. Ask our staff if your office trailer includes:
Private office(s)

Restroom

Aluminum or Wood Siding

Central HVAC or thru-wall AC

Vinyl or Aluminum Windows
Gypsum or Suspended Ceiling

Vinyl-covered Paneling

Security Package
Our portable office trailers come in a variety of sizes to accommodate the needs of different businesses and industries. Here are the sizes we offer:
We also offer a variety of furniture solutions that can help make your rental experience even more convenient. We offer solutions for open offices, private offices, breakrooms, conference rooms, and more. Entry solutions with a set of steps and a canopy can complete any office trailer rental.
Portable Office Trailer Rental Cost
Depending on the size, model, and length of the rental, the price of renting a portable office trailer can vary. Consult one of our sales experts for more pricing information.
Why Rent Portable Office Trailers?
What makes portable office trailers a great option for industries across the board? Why rent them?
Some key benefits of portable office trailer rental include:
Flexibility – Choose from a multitude of different sized trailers, depending on your specific industry needs
Affordability – Portable office trailer rental is perfect for those who aren't looking for a permanent solution which can sometimes break the bank
Speed – Portable office trailers are often available quickly and can be delivered in a timely fashion that simply isn't matched by permanent construction
Who Should Rent Portable Office Trailers? 
Triumph's portable office trailers can be a staple for industries across the board. Some of these include:
Construction – Whether you need a temporary check-in office or specific service rooms, portable office trailers are perfect for these temporary construction site buildings.
Education Sector – As classroom needs change and additional space becomes a requirement, portable office trailers are an excellent option to meet these needs.
Healthcare – Need a temporary lab? A testing station? No problem. Portable office trailers are a perfect solution for the healthcare industry. 
Government – Portable office trailers make the perfect spaces for expanding teams within each level of the government. 
Obviously, portable office trailers aren't limited to these industries. Anyone operating a business requiring a little extra temporary office space can benefit from renting one of our portable office trailers. 
How Does the Rental Process for Portable Office Trailers Work?
Because we understand how quickly your needs can change, our rental process has only a few simple steps for you to follow to get started:
Contact a Triumph sales expert, either by

filling out this form

or giving us a call at (800) 257-2536.

Receive a quote within 1 hour.

We will present you with an agreement to sign and schedule a delivery. Our deliveries can usually be scheduled for as quickly as 7 business days.

We will deliver, block, level, anchor, and skirt your portable office trailer.

A Triumph representative will be in touch with you shortly after delivery and setup to ensure that your specific needs are being met.

Receive your monthly bill as per the signed agreement.
And that's it. It's really that simple!