Do we have enough modular manufacturing capacity to meet demand here in the Northeast?  That's a key question for the modular industry.
The cost of construction continues to rise in New England.  This is due in large part to increased demand construction services remains high and a shortage of skilled labor in traditional construction disciplines.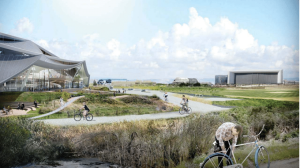 Modular construction is often presented as a solution. This view has been bolstered by several headline-making stories.  For example, Atlanta Developer featured stories about developers invested in modular construction plants, committed to manufacturer their way to fulfilling the need for constructed housing, schools, etc. in their communities. The Wall Street Journal featured Google's plans to use modular manufacturing for housing near its headquarters in Mountain View, California. Marriott and Hilton have generated much attention for their use of modular for many of their newest hotels, building large pieces of living quarters in factories.
But can modular work as well here in the Northeast?
Like other forms of manufacturing, modular requires a large investment of capital in order to achieve economies of scale – specifically modular manufacturing facilities.  In other regions that investment has been aided by large projects such as oil and mining "man camps" and military barracks.  We don't have a large oil, mining or military presence in New England and therefore haven't had this catalyst for the commercial modular manufacturing base. There is a high level of demand in New England for top-notch buildings which modular could accommodate, but most of the modular manufacturers here in New England currently specialize in smaller-scale projects.  
As noted in the previous post, the capacity and interest to meet the demand for large scale housing projects, as well as other commercial buildings, is very much in question.  Building multi-family housing is known as a Commercial Building endeavor which introduces elements of the building code that are much different than single-family homes.  Also, the use of steel, glass, and mechanical systems that are required in sizable commercial projects introduces more complexity.   The focus on home manufacturing helps increase awareness and hands-on experience with the modular process but currently doesn't expand the capacity for commercial projects.  There are some companies such as Champion Builders in Pennsylvania who already provide production for projects in the northeast.
As part of our 2020 efforts to expand the use of modular construction into new markets, we plan to contact other modular manufacturers to explore with them their capacity to build multi-unit commercial buildings, including multi-family housing, schools, hotels, dorms, and office buildings.  We're eager to work as an industry to present modular as a solution to New England's construction challenges.  I'll report back as we make progress.