Building Limitless Open Concept Solutions (BLOCS™)
At Triumph Modular, we are always brainstorming to be one step ahead, offering solutions and innovations that meet our customers' needs, and creating an expectation for higher standards in modular construction. Our product may be a box, but we are anything but boxed in when it comes to adaptable design. We have expanded our fleet to offer a completely customizable, modular building that offers a limitless, open-concept design, the BLOCS™ Building System. 
What makes BLOCS™ unique?
BLOCS™ is built on a perimeter frame with a clear span truss and do not require any columns or supporting walls. For our customers, BLOCS™ allows versatility when planning office layouts, deciding where meeting areas are created, and even when selecting furniture.
The length of the structure is set by a 60-foot steel high beam, and each module added sets the width, creating dozens of size configurations. Creating a 3-plex (2,160 SF) can be as easily accomplished as a 10-plex (7,200 SF) with our BLOCS™ Building System.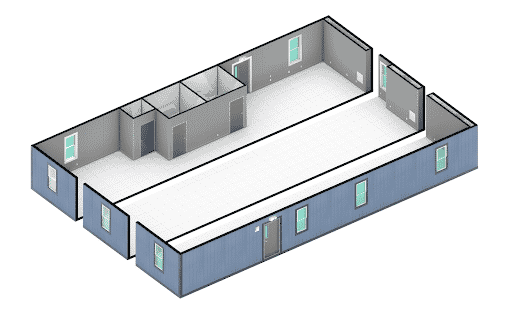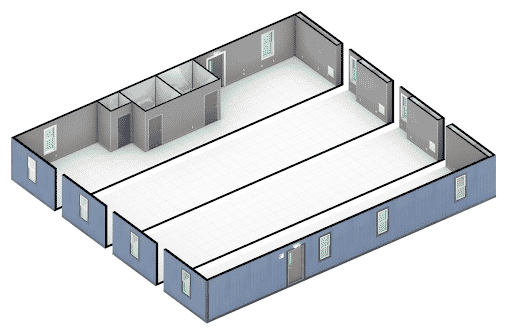 Let's take a closer look at some of the other features and benefits of BLOCS™  
BLOCS™ has less bounce than a mobile office because of the perimeter frame's stability.
Acoustical ceiling tiles provide a traditional office look and convenient access to data lines and additional electrical wires.
LED Lights utilize less power, and last three to five times longer than a traditional lightbulb. 
BLOCS™ is adaptable to your project's timeline. If there are changes to the scope of your project that require more or less space, it's not an issue: BLOCS™ can be adjusted. Additions and reductions are an opportunity for customization rather than the risk of needing to lease a whole new unit. 
Adding walls to your building is easier than ever
When you have chosen the amount of space you need, the BLOCS™ Modular Wall System can be used to reconfigure the interior of the space upon installation—or even after.
For example, if you hire a team member after your installation is complete and need additional office space, no problem! We can coordinate the reconfiguration on-site with one of our specialists. BLOCS™ walls are installed on a track system, which enables them to be added or removed quickly. Depending on your needs, wall sections can include both doors and windows. Electrical raceways are used between panels of the wall system, which makes dropping electrical wires to power the outlets a fast and easy process.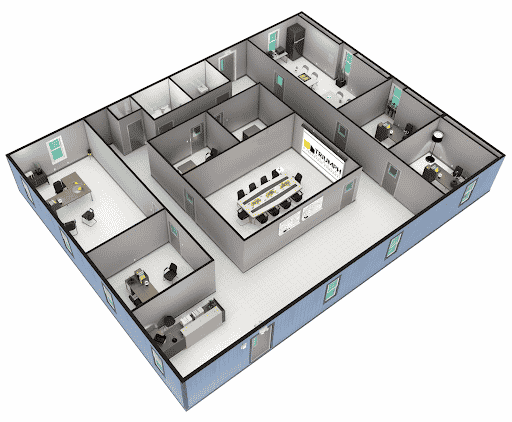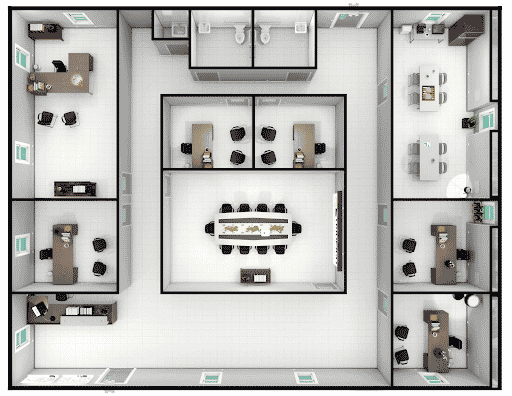 What is the BLOCS™ Modular Wall System made of?
BLOCS™ Modular Walls are eight feet tall and four inches thick. The panels are insulated with vinyl-covered gypsum and feature a honeycomb wall core for added noise reduction.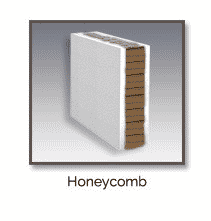 BLOCS™ and BLOCS™ Modular Walls are your ideal solutions
BLOCS™ is adaptable enough to extend beyond business offices and classrooms. They can also be used for a variety of special uses, including medical facilities, laboratories, and STEM Spaces. Rather than having to design around columns or pre-determined offices, BLOCS™ provides the flexibility to design your own custom space.
Our experienced Sales Team will work with you to create your custom layout. We can even provide floor plans to help you optimize wall and furniture placement. 
Triumph Modular is redefining modular construction, and we look forward to supporting the needs of your business with innovative solutions. Looking for more information about how the BLOCS™ Building System and BLOCS™ Modular Walls can work for your project? Contact us today!