One of Triumph's recent projects was Northeastern University's new leasing office. NEU needed a way to generate awareness and market their new dorm, LightView, opening in September 2019. To achieve this goal, Northeastern hired Triumph to create a leasing office where students could walk through model dorm rooms. Even while construction of the actual residence goes on, students are able to look and touch an accurate model showroom. The Northeastern temporary modular leasing center is relocatable and is active for one year. Inside, the main foyer and conference room provide plenty of space for staff meetings with prospective tenants. On the other half of the building, there is a model replica of the LightView dorm. It includes a kitchen, living room, bathroom, and two bedrooms. In a unique twist, one of the bedrooms has furnishings attached to the ceiling. Thus, students can easily envision the layout without stepping around furniture.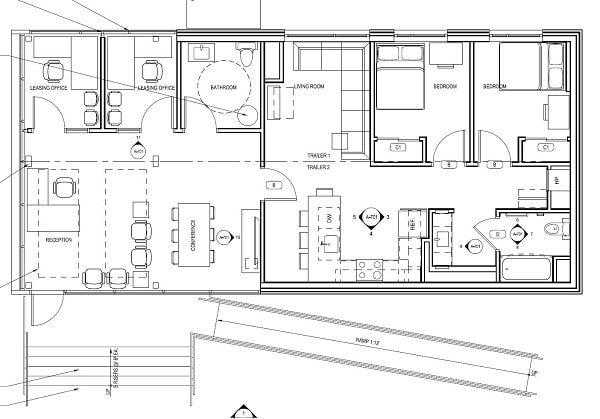 Technical Innovation & Sustainability
Even though this project is temporary, it required the same level of quality as the new LightView dorms. The building stands on concrete piers and has flat metal stock skirting, which looks just like a permanent foundation. This solution is both visually appealing and cost-effective.  With special engineering and design experts, we created full-width floor-to-ceiling windows. We also minimized the dimensions of the corners.  In fact, the building boasts nearly 60 feet of 114-inch high Kawneer SSG glazing storefront windows.  The interior has special blocking in the walls to support the kitchen cabinets and appliances. Lastly, it has a tight tank to accommodate the functioning restroom off the foyer.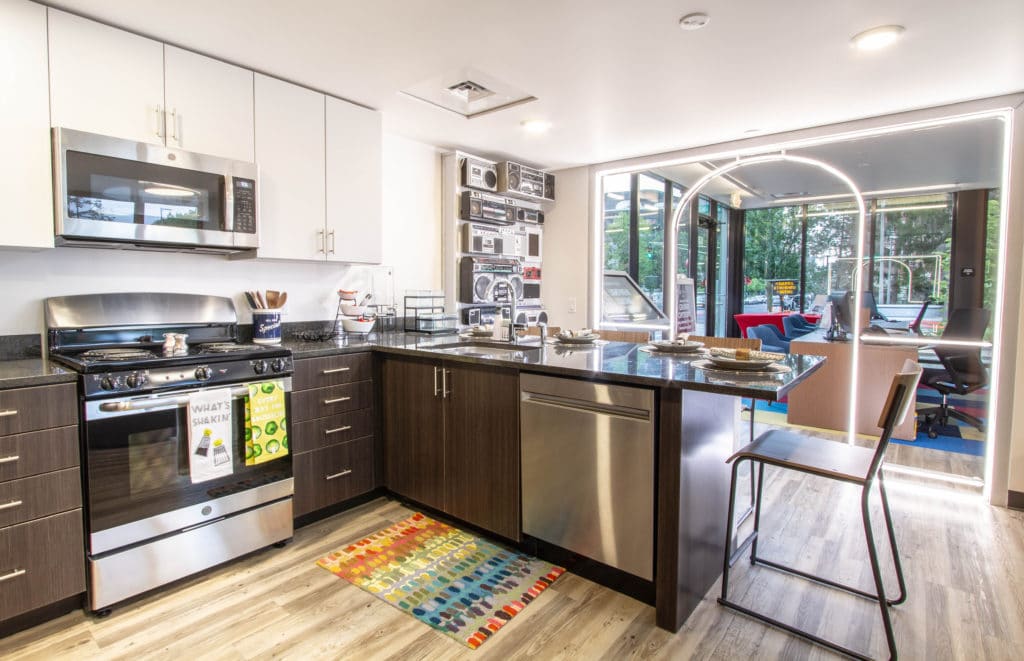 Cost-Effectiveness
With rental rates of approximately $1500 per person, Northeastern University needed to have maximum occupancy in their dorms. Northeastern required a quick turnaround and an emphasis on aesthetic quality in order to convey the proper image of the new dorms. They also wanted the leasing office to be within close proximity to the new dorms so purchasing or leasing space wasn't a realistic option.  The unique design of the leasing facility with natural lighting from the large storefront windows was the perfect solution for pre-leasing the new dorm space.
To get information about this building, click below.